It all started with Jean Safranek.
I have been breeding and showing Miniature Poodles in obedience and conformation for over 40 years.
Now that the drawers are overflowing with ribbons and the photo albums are full of pictures to remind me of the good times, I have decided to bow out and sign the Safranné name (pronounced Saf-ra-neigh) over to my good friend Estelle Kapsner.
I met Estelle about 24 years ago when she came to my obedience class with a Black Lab on the end of her leash. She was very impressed with the demo poodle I had at the time and expressed an interest in getting a poodle in the future. First, she had to finish training the lab.
Estelle has been breeding and competing with her Miniature Poodles in obedience, rally and conformation since 1995 and now more recently agility---no more labs.
Enjoy the website!
Jean Safranek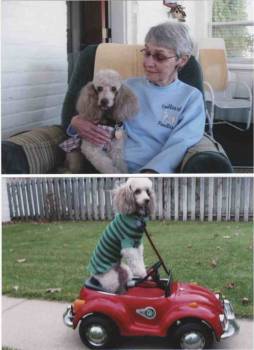 Jean and Lexi at age 15 years. Two grand ladies!