Satisfied Agility Owners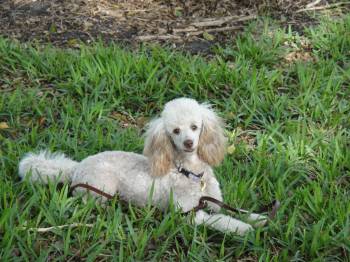 "Opal"
"Opal is beautiful; we get many compliments! My groomer calls her "Pearl"
because of her coloring. We are now in Freestyle classes. She's doing very well! Opal is to young to jump but we've been doing some circle work, board walking and other basic agility drills. I especially want to get the teeter started right. She is enthusiastic and a wonderful dog to work with. I do love her!
"Penske"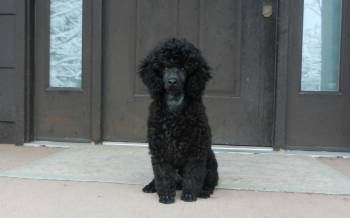 A Deck/Mia son owned and loved by Kitty Bradley.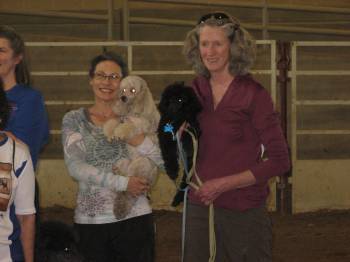 Baby Penske visiting at the AKC Agility Nationals 2013.
Maxine Levinson and Safranne's Lexus Speed Racer
a Jib/ Echo daughter "Lexi"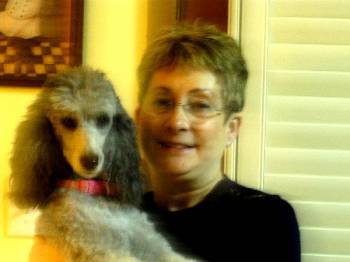 Marty Calden and
Deck/Mia daughter "Moka"
Moka is 1 year.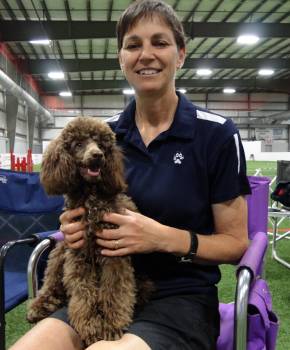 Watch Moka and Marty.
http://www.youtube.com/watch?v=ThvWM3RZdAs&feature=share
Hi Estelle,


"I know it's early but the votes are coming in and Jackie and I agree that little Moka is already laying claim to the title of "nicest dog we have ever had."  She is such a nice little dog Estelle, you should be proud!  
Maggie Scholar and Deck/Topi son
Safranne's Jumping Jack Flash AX, MXJ
"Jagger"
Jagger is 2 years old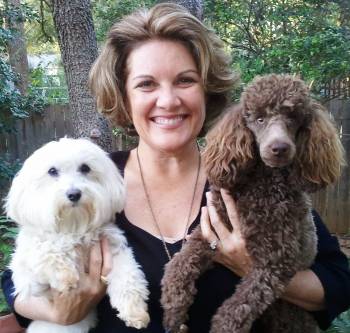 To: Jean Safranek
Sent: Sunday, December 04, 2011 7:14 AM
Subject: RE: Happy Birthday
YES! Jagger had both a good and bad day yesterday! First he had to be groomed, which is bad, but then he got to spend the afternoon shopping alone with Bob and Maggie. He LOVES to go out alone without Gus and have everyone to himself. He takes it all very seriously and does his very best to be good. It is so cute!
Jean, he is such a wonderful little guy, we love him so much! I am looking forward to another poodle party next year and I know that Jagger canít wait to see his Momma Jean!!
Thank you for the best little poodle doodle on the planet!!
UKC CH Safranne's La Crosse Jiblet X's Two
Barb Mars and Deck
daughter "Jiblet"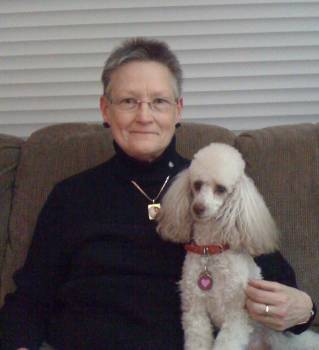 Jiblet is a pure joy with quite the outgoing personality. She's the ultimate "Party Girl" Filled with enthusiasm, an ability to learn quickly and willingness to try new things. She's got great drive, focus and is very fast on her feet. All these qualities will hopefully lead to a wonderful agility career. For fun, we are taking "K9 Scent Work" classes and also may try Obedience competition in the future. Thanks for giving me the opportunity to share my life with this beautiful and sweet girl.
Safranne's On Starboard Tack
Kathy Kelly and "Jack"
a Deck/Mia son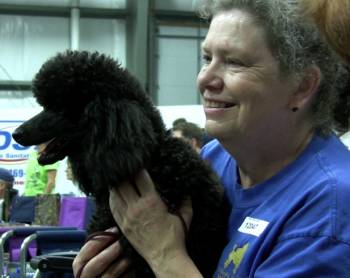 "Estelle,"
"BTW He is doing fabulously in Foundations class. We are still focusing on ground work. One jump exercises,
board work (thus the rock solid 2o2o), teeter bang, etc. Last Monday we had our first "course". A handling exercise with
a 'boxes' of jump standards and gates. He was a star. This boy likes to M...O...V...E!!!!!
Jack is really an independent dog so I have had to become a much more interesting trainer. It is getting
a lot easier to keep his attention as he matures.
I see tracking and obedience in his future. I took a step back from
obedience classes after the first two, to focus on agility. We were getting signals crossed. I will
probably go back to obedience in the spring.
We would LOVE to be on the website! Most certainly a satisfied owner"
Kathy
Safranne's Aurora Dawn
Deck/Mia daughter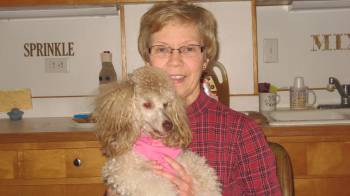 "My beautiful Dawn is the sweetest little girl. She loves everyone and proves it by her need to lick and lick anyone within reach. Dawn is a very quiet girl who rarely barks, instead gives a soft little "woof" when she has something to say. I feel so very, very fortunate that this perfect little girl is my little girl to have, hold and love. Thank you Estelle, for letting Dawn make her home with me. "
Kay
Safranne's Bodacious Miracle
"BO" and Pat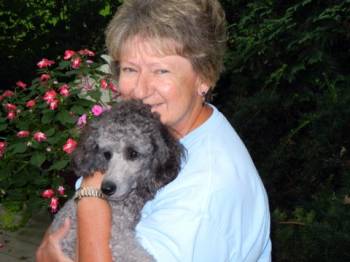 Hi Estelle
"Thank you so much for letting us have Bo. I hope he is as happy with me as I am with him, he is a wonderful dog. I am very blessed to have him. He is well and thriving. Better go to bed, Bo is already sleeping on the couch. "
Pat W.
"Grandpa Jib"
Mach 2 AM CH Kallista's Silver Sails Aloft
11th Birthday Party
Aug. 20th, 2011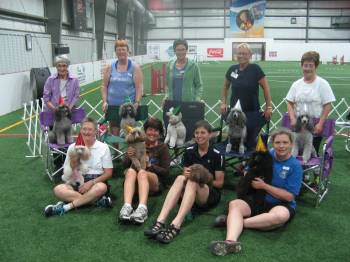 All but two of these dogs are Safranne dogs! The row in front are all Deck babies and
the dogs in the back row are all Jib "Kids" aka the "Jiblets". Jib the Guest of Honor is
with his owner and handler Suzi Cope.