OBEDIENCE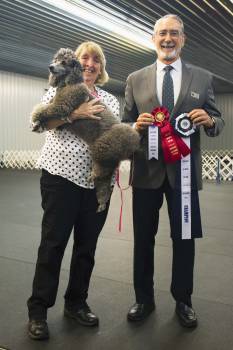 OTCH EClassic's Ansel's Silver Image UDX3 OM6 NA NAJ OAP OJP NFP CGC TKN Achiever Dog
Here is a update on our RIO son "Ansel" owned by Valerie and Kenn Earwood 7/2021.
Quotes from Valerie and Kenn:
Hi Estelle-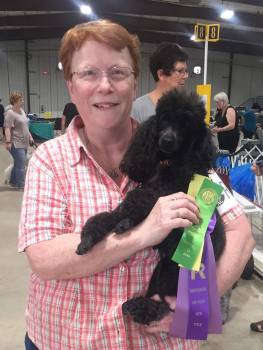 Am Ch Safranne's Quest for a Miracle BN, CD, RN, RI
Mira finished her Rally Intermediate title and we now loose the leash and jump into Rally Advanced.
"Here are some photos that Kenn took of Ansel's recent winnings. The first one is the High Combined and the High in Trial from the York Co trial. The other includes the plaque and blue and white ribbon he received for Oriole Dog Training Club as having the highest average in Utility A and the blue and white ribbon for showing promise in agility." Valerie Earwood
"Ansel" is our RIO son and we are so proud of both Valerie and Ansel. :)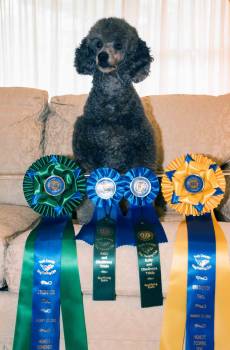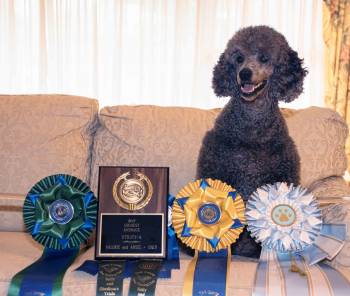 EClassic's Ansel's Silver Image CDX NJP CGC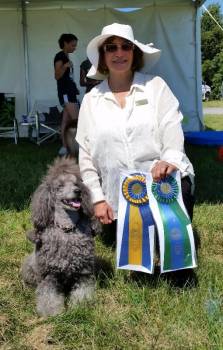 Vela and Judge Linda Farillo.
WE have a new Obedience Champion. Congratulations Evelyn Gansfuss and "Vela" who is a Deck/Evie daughter from Janco Miniature poodles with Janet Collins.
"Today Vela changed her name to OTCH Janco Cosmic Argo Vela with 2- 1st places HIT and High Combines." Evelyn
August 2, 2015.
"Hi Estelle, Saw your write-up on Vela. Thought you should mention that she is 3 ½ years old. Vela received her UD title in Sept 2014. I don't show in the winter so she managed to accumulate the 53 additional points and her 1sts in Open from April thru August. Only showed once in June and Once in July and Once in August. The weather was hot, hot , hot when she finished.
I haven't had a dog that loved obedience as much as Vela in a long time."
Evelyn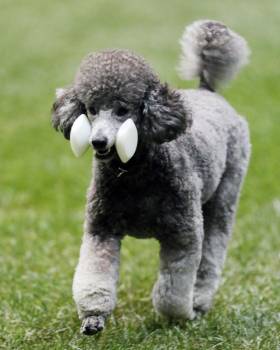 EClassic's Ansel's Silver Image CDX NJP CGC

Here's a bit of a brag from us…Ansel got his CD in 3 trials with 3 first place finishes. All with scores in the 190's. We're very proud of him. We didn't expect to have him in the ring at the age of 2, but he has progressed so well that our trainers thought that we were ready. He is really wonderful and everything that you said that he would be.
We are so proud!!!
Val, Kenn- and Ansel!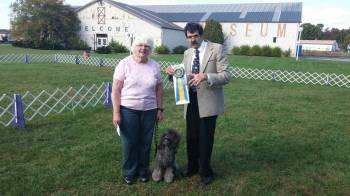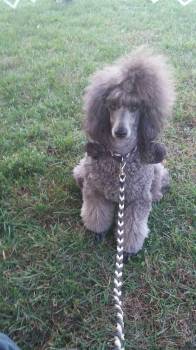 HIT with a 197 in Utility.
This is Vela and her High In Trial ribbon with Evelyn Gansfuss. Vela is one of the California pups. Truffles is her "little" sister.
They are Deck/Evie pups from Janco miniature poodles and bred by Janet Collins.
Memories
AM CH Safranne's Mini Cooper CD RAE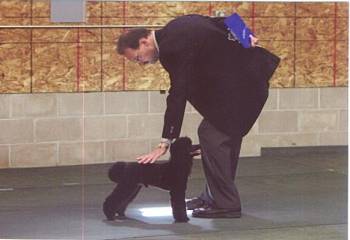 Cooper Stand for Exam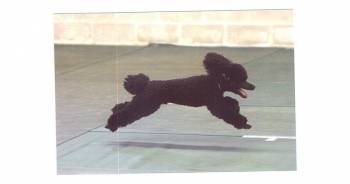 Cooper Recall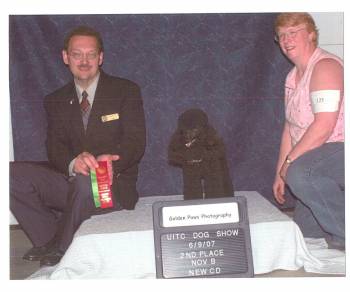 Cooper Companion Dog Title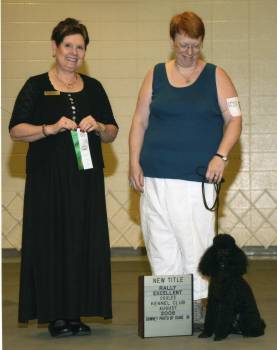 Cooper Rally Excellent Title
AM CH Safranne Silver Sails on the Horizon CD RA NA NAJ
"DECK"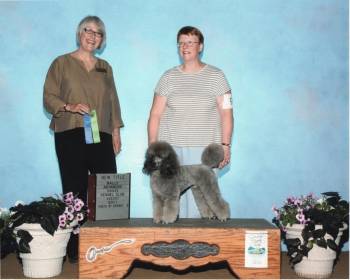 Rally Advance Title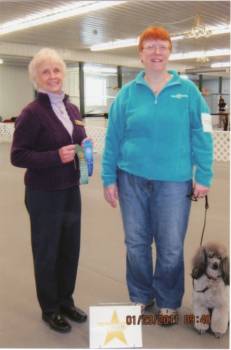 "Deck" finishing his AKC Companion Dog Title
Safranne's Lexus Speed Racer CD, NA, NAJ, OA, OAJ
AKC Companion Dog Title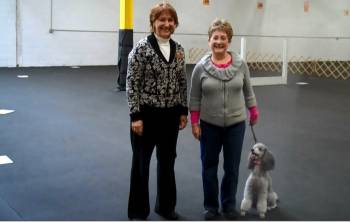 Maxine Levinson and "Lexi"
Obedience Memories Of Yester Year
Jean Safranek founder of Safranne Miniature Performance Poodles with: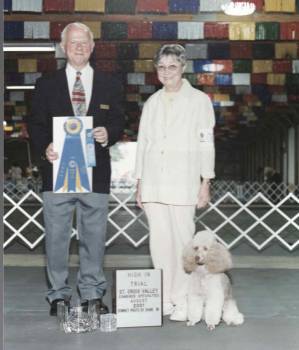 CH Safranne's Lexus Challenge CDX, TP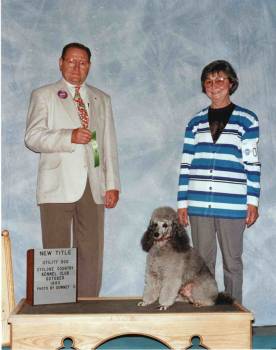 CH Safrannés Rolls Royce UD
OTCH Cappi's Pooh Dijon
"DJ"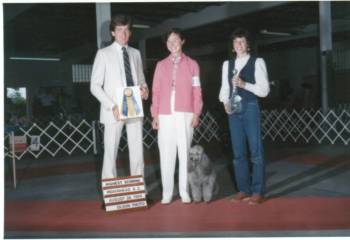 High In Trial